Every month we give you an update on the most interesting events of the past month. This can be completed projects, an interview with an Liquid Rubber applicator, an update of our sponsor activities and many more. Some complete projects are large (in terms of volume), others are smaller, but this way you get an impression of the many possibilities with Liquid Rubber.
Would you like to receive the newsletter each month by e-mail? Sign up for our newsletter by sending an e-mail to marketing@liquidrubbereurope.com
Below you'll find all the highlights of the newsletter or click here for the full newsletter.
Project: Air barrier and waterproofing with Liquid Rubber HBS200
Description: Liquid Rubber is known for it's capability to seal difficult connections. The Liquid Rubber products have a strong adhesion on almost every surface and have an extreme flexibility of 900%. These two combined ensure a durable sealant for many difficult details.
In this project Liquid Rubber seals the connection from basement wall to the facade. The basement wall is already insulated and the facade is built with sand-lime bricks. Liquid Rubber HBS200 has a perfect adhesion to both these surfaces.
The surface was cleaned thoroughly before the Liquid Rubber HBS200 was applied with an airless spray machine. In the still wet HBS200, a Geotextile was placed. After the Geotextile was placed, a second layer of HBS200 was sprayed on the surface.
This is a solid and quick sealant and the client was very happy. Liquid Rubber will ensure a durable waterproof and airtight sealant.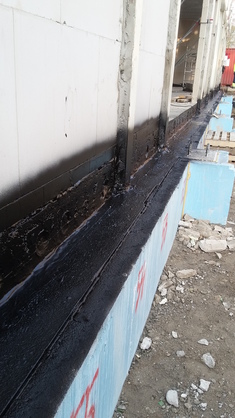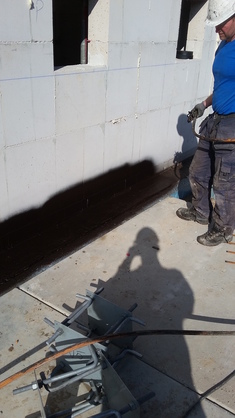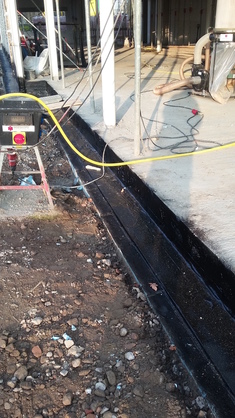 Project: Waterproofing concrete with Liquid Rubber BelowGrade
Description: The last phase of this interesting project has started. This week the last few hundred square meters are treated with Liquid rubber. The entire project contains 15.500m2 of Liquid Rubber treatment on top of the concrete floor.
Liquid Rubber BelowGrade is spray applied directly on top of the concrete floor in a thickness of 2mm. This ensures a fully waterproofed and seamless layer with a durable flexibility of 900%. Liquid Rubber protects the underlaying concrete from penetration of water and salts.
This job was done in phases and the Liquid Rubber applicator did all phases according to schedule. They even managed to spray 1380m2 on a single day. The client is very satisfied with the quality and application speed of Liquid Rubber
A beautiful project where we, Liquid Rubber Europe, are very proud of.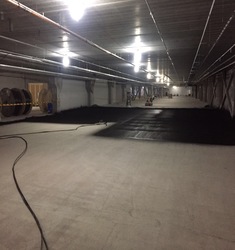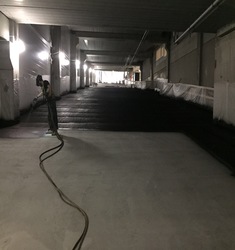 Project:Joint sealing with Liquid Rubber HBS200
Beschrijving:Liquid Rubber HBS200 is used in many forms of concrete sealing. The product can be used to seal entire concrete surfaces or just the concrete joints.
At this job site, all the veritcal and horizontal joints needed to be treated with a waterproof and flexible membrane of Liquid Rubber. Liquid Rubber HBS200 was directly aplied on the surface by means of a brush. In the wet layer of Liquid Rubber a Geotextile was placed to bridge the concrete joint. Afterwards, a second layer of Liquid Rubber HBS200 was brushed on to the Geotextile.
A good reference that shows how detailed Liquid Rubber can provide a functional sealant.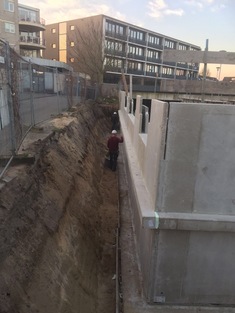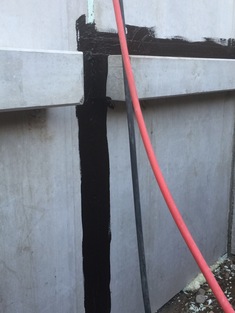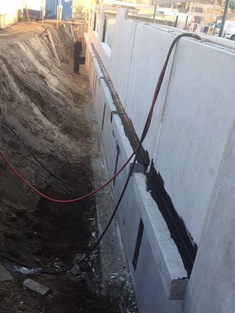 We would like to introduce our new colleague to you. Since the 1st of February, Adem Vilic is a part of the Liquid Rubber team. Adem will represent our company in the Southern part of the Netherlands.
Adem has years of experience in the sales of tecnical products and needed a new step in his carreer. Adem will use all his technical experience in all his meetings, advices and demonstrations in the Southern area of our country.
We would like to wish Adem all the luck and fun on his new job. Based on the first months, we are sure to say that Adem is a well appreciated addition to our team!
Do you have a question for Adem? Or do you wish a technical explaination or demonstration? You will be able to reach Adem on the contact data below.
Tel: +316 21 37 22 82
Email: adem@liquidrubbereurope.com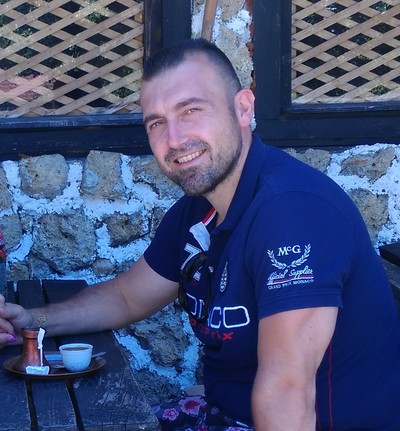 Follow us on Facebook, Twitter and YouTube.
On our social media account we post informative, interesting and entertaining posts. On YouTube we post videos that are informative and demonstrate the large number of possibilities of our product range. Besides following our developments you can also share your opinion about Liquid Rubber with the rest of the world.
Click the following buttons to follow Liquid Rubber Europe.